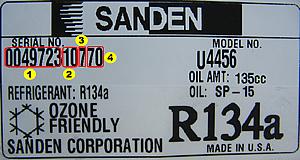 WARRANTY LABORATORY PROCEDURE FOR THE RETURN OF WARRANTY MATERIALS
I. GOAL: To provide a basic screening procedure which will define a failed compressor that is acceptable for warranty consideration and to outline the proper procedure for returning warranty material.
II. OBJECTIVE: This procedure will eliminate many rejected warranty claims and significantly reduce costly freight charges, report lead-time, paperwork and disputed claims.
III. PROCEDURE:
ITEM 1. VERIFY THAT THE COMPRESSOR IS WITHIN THE ALLOWED WARRANTY.
Products are warranted for a finite period of time. Any compressor which has exceeded the allowed warranty period, should not be returned for analysis.
Standard compressor warranty is based on the date of compressor manufacture. The date of compressor manufacture is indicated on the compressor serial number. Any compressor returned for analysis after its allowed warranty date will not be analyzed and will be listed on the report as "O/W, Out of allowed warranty".
The details of a warranty agreement may vary depending on the specific type of system and application. The agreement is made between Sanden Sales and the customer representative.
For additional information on specific terms of warranty, please contact your respective sales representative.
COMPRESSOR IDENTIFICATION
SAMPLE STANDARD SERIAL NUMBER 0 1 2 3 4 5 6 0 1 5 7 0 (See photo right)
| | | | |
| --- | --- | --- | --- |
| 0 1 2 3 4 5 6 | 01 | 5 | 70 |
| Serial Number | Month of Mfg (Jan.) | Year of Mfg. (1995) | Mfg Location |
When a returned compressor is analyzed for failure responsibility, the serial number is recorded to aid in tracking compressor history. If the label is removed or otherwise rendered illegible, the warranty is void.
ITEM 2. FREIGHT DAMAGE.
Compressors must be individually packaged to prevent shipping damage. Compressors that are damaged as a result of transportation should not be returned for warranty consideration. Freight damaged parts are the responsibility of the Carrier.
ITEM 3. CUSTOMER DAMAGE.
Customer damage refers to instances where compressor failure is caused by improper installation, mishandling and / or incorrect system application.
When a returned compressor is analyzed for failure responsibility, the physical condition of the compressor is examined to determine if the compressor was subjected to handling damage and / or improper installation.
If the compressor has external indications, or shows evidence that it was subjected to extreme conditions which caused the failure, then the cause of the failure may be determined to be customer damage.
Customer damage includes but is not limited to the following:
Over-torquing of mounting bolts which may break compressor ear mounts. (Clearance between the compressor and bracket should not exceed 0.2mm per ear for 8 ear type compressors or 0.4mm total for 2 ears. Exceeding these limits could result in leaks and/or abnormal wear.) Over-torquing of hose fittings which can result in stripped threads or broken ports.Improper field service. Parts that are incorrectly replaced or installed can result in subsequent compressor failure. Mechanical damage to the clutch, scratches, nicks, dents, air gap modified, lead wires pulled out, pinched, cut etc.Mechanical damage to the compressor cylinder block.The addition of non approved chemicals to the compressor or system.Improper packaging or handling of the compressor.Improper modification of the compressor i.e. painting, plating, polishing etc.
ITEM 4. SERVICE HISTORY.
Obtaining a complete service history of the A/C system on the vehicle greatly simplifies the analysis of returned compressors.
When collecting claims from dealers, special attention should be given to related system failures and the original cause for replacement of the A/C Compressor. This information is used to pinpoint the specific cause of failure and to reduce the time required to complete compressor analysis.
Compressors returned with incomplete or inadequate Service Histories often require a complete spectrum of time consuming tests to determine the primary defect. This extensive examination often results in the complete disassembly of a good compressor.
Studies have shown that the majority of compressor failures are due to a failure in an A/C system component. The undetected system defect can lead to numerous compressor failures. The following is list of a few common system defects:
Lack of refrigerant and/ or oil from a system leak.Lack of condensing performance/ condenser and / or fan failure.Thermostat failure or incorrect setting.Malfunction of cut-out switches high/ low.TXV failure or orifice tube blocked off.Blocked off or restriction in Receiver dryer. If one or more of these reasons were originally stated on the service claim, it is likely to be the primary reason for compressor failure.
ITEM 5. OBTAIN RETURN AUTHORIZATION.
All material returned for warranty consideration must be pre-authorized. This authorization is granted by the assignment of a Return Material Authorization number (RMA #). The RMA number is used to authorize, receive, track and report on a specific return.
To obtain a Return Material Authorization number, or if you have questions regarding warranty return procedures please (between the hours of 8:00am - 5:00pm CST, Mon - Fri) contact:
Warranty Administrator
Sanden International (USA), Inc.
(972) 442 - 8714
Once obtained, the RMA number must be prominently displayed on the outside of the container. This is necessary to properly receive and to track the analysis of the returned material. The RMA number notifies the receiving department that the material has been given proper authorization to be returned. Material that is returned without a valid RMA # will be rejected and RETURNED TO SENDER without analysis.
All material being returned for warranty consideration must be securely and individually packed to prevent secondary damage to returns.
SHIP TO:
WARRANTY DEPARTMENT
SANDEN INTERNATIONAL (USA), INC.
601 SOUTH SANDEN BOULEVARD
WYLIE,TEXAS 75098 - 4999
Compressors that are properly returned for warranty consideration will be evaluated to determine the root cause of failure. A copy of the completed report will be mailed to the customer. Please reference the assigned RMA# when making an inquiry about returns. In order to provide for efficient processing of returned materials, the RMA # is used as the sole means for tracking warranty returns. It is not feasible nor time efficient to utilize any form of customer generated reference number, claim number, reject number or dealer number etc., to track returns.
Claims that are credited will be scrapped by Sanden- Warranty and credit will be applied to the customer account by the Sanden -Accounting department.
Denied claims will be held for 30 days from date of the completed report and then scrapped, unless notified to return. Sanden can not return compressors in assembled condition. A complete teardown analysis may become necessary to establish the responsibility in the absence of clear and accurate claim and / or service history. The Sanden - Warranty Department does not perform repairs or rework to compressors.